About Us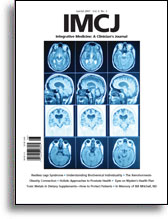 Launched as a peer-reviewed journal in 2002,
Integrative Medicine: A Clinician's Journal
(
IMCJ
) provides practitioners with a practical and comprehensive approach to integrating alternative therapies with conventional medicine. The journal is published 6 times per year under the leadership of Joseph Pizzorno, ND, editor in chief, a cofounder and former president of Bastyr University.
Goals:
To provide a practical and comprehensive approach to preventing and treating disease, healing illness, and promoting health in a clinical setting using integrative medicine.
To assure practitioners receive authoritative, scientifically accurate information they can trust and immediately apply to their clinics or pharmacies.
To provide optimal resources for patient care.
To present the "issues of the day" such as nutritional debates, assessments of therapies, and clinical protocols.
Attributes:
Unique in the field
Practical
Covering a broad base of clinical issues—with a primary focus on the use of nutritional supplements, botanicals, diet, and lifestyle
Peer reviewed
IMCJ editors: 2 naturopathic doctors (NDs), 2 medical doctors (MDs), 1 doctor of chiropractic (DC)
Editorial review board: 9 MDs, 8 NDs, 3 PhDs, 3 DCs, 1 doctor of oriental medicine (OMD),1 combined masters of business (MBA) and jurist doctorate (JD), and 1 masters of public health (MPH)
CALL FOR PAPERS
The editors of IMCJ invite authors to submit original papers for consideration. Click here for submissions information.
IMCJ Editor and Associate Editors
JOSEPH PIZZORNO, ND - Editor
E-mail Joe Pizzorno
SIDNEY MACDONALD BAKER, MD - Associate Editor
E-mail Sidney MacDonald
BILL BENDA, MD - Associate Editor
E-mail Bill Benda, MD
TORI HUDSON, ND - Associate Editor
E-mail Tori Hudson
DAVID WICKES, DC - Associate Editor
E-mail David Wickes
To view our Editorial Board, please click here.
PRIVACY
We respect your privacy!
We don't like spam, and we know you don't, either. InnoVision Health Media will never sell or otherwise distribute your contact information to any other party for any reason without your written permission.
Receiving other e-mails from us:
As part of your subscription to the InnoVision Health Media professional e-Newsletter, we will, from time to time, send you updates about new features and enhancements on the InnoVision websites, as well as special offers and product information from us on behalf of InnoVision and a carefully selected group of partners. You can unsubscribe from the e-Newsletters or the special-offer e-mails at any time by clicking on the unsubscribe link at the bottom of any e-mails we send you.
Need to change your e-mail address?
If you need to change your e-mail address, please unsubscribe from the e-Newsletter using the link on the bottom of any e-Newsletter you receive, and then sign up again using this form with your new e-mail address.