Advertising Information
Leading the Integrative Medicine Movement!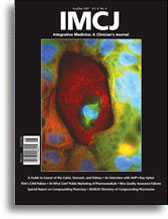 Rates and Specifications 2024
Download Media Kit (pdf)
Integrative Medicine: A Clinician's Journal provides scientifically accurate, practical information about conventional and natural medicine to healthcare professionals. This focus on integrative medicine provides readers with a comprehensive approach to preventing and treating illness in an effort to provide optimal patient care. The impressive editors and editorial review board ensures that readers are receiving information they can trust and immediately apply to their clinic or pharmacy. The easy-to-read, attractive format adds to the appeal of this respected journal for healthcare professionals. Published six time a year, Integrative Medicine provides a unique blend of valuable information in this growing field.
| | |
| --- | --- |
| Published: | Bi-monthly in February, April, June, August, October, December |
| Format: | Print and digital editions |
| Circulation: | Total circulation: 29,500 |
| Readership: | Holistic MD/DO/RN/NP/ND, DC, nutritionists, chiropractors |
| Editor in Chief: | Joseph Pizzorno, ND |
ADVERTISING CONTACTS
Specifications
(Trim size: 8.125"W x 10.875"H)
Ad Sizes (W x H)
Non-bleed safe area
Bleed sizes
Spread
16.25"
x
10.875"
16.5"
x
11.125"
Full Page
8.125"
x
10.875"
8.375"
x
11.125"
2/3 vertical
4.75"
x
10.00"
1/2 vertical
3.375"
x
10.00"
1/2 horizontal
7.00"
x
4.875"
1/3 square
4.375"
x
4.875"
1/3 vertical
2.125"
x
10.00"
1/4 page
3.375"
x
4.875"
Printing Schedule
Issue
Reservations
Materials
February
December 15
December 29
April
February 16
February 23
June
April 12
April 19
August
June 14
June 21
October
August 16
August 23
December
October 18
October 25
Distribution date is the 1st week of the month.
Submission Methods
There are 3 acceptable ways to submit an ad. All artwork, plus a hard-copy proof, must be submitted by the artwork deadline. Please include advertiser name and journal issue the ad is to run in.
Via Email:
• Email ads to: David Benson (able to accept 10mb files)
• Specify advertiser name and issue run.
Via FTP:
• Email David Benson for login information.
• Please send an e-mail indicating file upload, advertiser name, and issue run.
Via CD or Zip Disk:
• Mail to: Creative Director,3470 Washington Drive Suite 102 • Eagan, MN 55121 • Ph: 651.251.9623
Artwork Submission Deadlines
If artwork cannot be provided by the deadlines or by an approved extension by the creative director, then the publisher will run the most recent artwork submitted. If no artwork is on hand, then the advertiser will still be responsible for payment on the space reserved.
Artwork Questions?
Please contact David Benson by phone at 651-251-9623 or email David Benson.